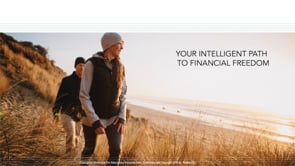 Get Your Financial Freedom Plan Today!
One-Time Payment of $1,497.00


Two - Private One Hour Consultations

Detailed Product Comparison
What Others Have to Say...
Bruce & Angie

"I wish I would have deployed the concepts from WealthyIQ when I retired 30 years ago from my corporate role as a Banking Sr VP.  I'm faced with the reality of having a hefty Tax Bill due to the IRS which could have been avoided using your strategies. I became a client because I found the team at WealthyIQ extremely knowledgeable and trustworthy.  I would highly recommend their service to anyone wanting financial freedom in the shortest time frame possible."
Doman & Jennifer

"We would like to thank the team at WeathyIQ for making this information available. We had some concerns about our current plan and didn't know for sure when we'd actually be financially free. After sitting down with Jeff and Tina we realized we had a problem that needed immediate attention. In just a couple of days, they were able to put together a plan to have us financially free in just 11 years instead of 40... saving us 3 decades. Donman and I just wanted to say thank you for providing a better way to ensure we'd be able to retire when we wanted."

Don - CEO, Cardon Development

"As an entrepreneur and investor of large-scale opportunities, I am always intrigued with individuals who 'just seem to get it. Having known Jeff for many years, I would easily describe him as one of the most disciplined visionaries I have ever met.  Jeff is trustworthy and intensely committed to succeed."